About Triple Crown Chiropractic & Wellness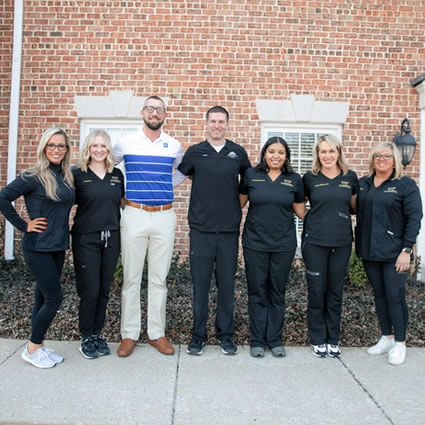 Dr. Jenny Millen completed her education at Logan University, graduating with a doctor of Chiropractic in 2002. She's been in our community for over a decade, having moved to the area to be closer to family. The Hamburg neighborhood instantly felt like home thanks to its small-town feel, and Dr. Jenny decided to establish Triple Crown Chiropractic & Wellness there.
Dr. Jenny is joined in practice by Dr. Aaron Belcher and Dr. Ebony Marshall. Together, they serve area families with quality natural care. You're in great hands at our chiropractic office!
Our Vision
We are on a mission to get 80% of our community under chiropractic care. We can change the health of our community!
Our Purpose
We want to educate and bring awareness to our community that chiropractic should be the first choice in health care.
Chiropractic isn't just about addressing your aches or pains. It can improve your overall well-being and function in life. We go far beyond pain relief to help you discover true wellness from the inside out.
Our Core Values
Leadership
Chiropractic
Passion
WOW service
Responsibility
Integrity
Chronic Cases Welcome
We love accepting the cases that other doctors were unable to help. Often, our patients come to us thinking they've exhausted their options within the realm of health care. We stay motivated by getting our patients results.
One example is an older gentleman who walked with a cane and had a case of terrible vertigo for 8 weeks. Nothing seemed to work to get rid of it. After three adjustments, the vertigo as nearly gone. And the man hardly needed to use his cane anymore! Two more treatments, and the vertigo and cane were both gone.
An Oasis of Happy During Your Day
People always say that our office is the happiest one they've ever been to. Our team members care about each other and every one of our patients, and it shows in everything we do. When you meet us, you'll feel certain that we're going to do everything possible to help you achieve a pain-free lifestyle. Contact us today to get started!
---
About Triple Crown Chiropractic & Wellness | (859) 335-0419