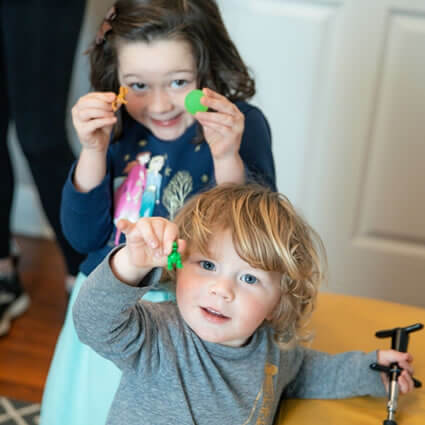 Triple Crown Chiropractic & Wellness Reviews
What Our Lexington Patients Say
At Triple Crown Chiropractic & Wellness we love when patients share with us their feedback and comments after chiropractic care. Please read our patient testimonials below to see what other people have achieved through their tailored treatment plans with us.
Share your stories too! Click here to send us your feedback so that we can help to spread the word about the benefits of natural Triple Crown Chiropractic & Wellness care.
For more information, or to schedule an appointment contact us today.
---
Dr. Jenny is World Class
Dr. Jenny, as my boys so fondly call her, has changed our lives. And I don't say that loosely – it's the God's honest truth. When we first met her, I was 50lbs overweight and my oldest two kids had severe asthma. They were on 5 daily medications and the list was just getting longer. I had seen a chiropractor as a kid and thought, I've got to try something different than traditional Western medical care because this was getting ridiculous. My boys LOVED her immediately.
Although other doctors were in the practice, they were immediately drawn to her strong, loving, confident style. She is compassionate, honest and supportive. We consistently saw her for adjustments twice weekly and eventually, were able to spread them out to twice monthly. Not only did she 'pop' our backs as the kids called it, she taught their mother, me, about slowing down, eating right and making conscious decisions about what we put in our mouths and allowed in our lives. Her patient explanations, guidance and healing hands guided us through some of the darkest times in my life. The kids would argue about who would be first on her table.
The people of Kentucky are lucky to have her. As far as I am concerned, Dr. Jenny is a world-class doctor and humanitarian. You will thrive in her care and under her guidance.
-Anonymous
Thank You
Thank you for all you've done for me, my health, and the health of my baby thus far. You're advice and willingness for flexibility and your listening ear are both greatly appreciated. Your staff is so awesome! I love that I get greeted by name every time I walk through the door and they're always smiling. I love that they take an active interest in all of your patients… it's so encouraging and very unexpected. I cannot wait for our continuing time together as we work on keeping me nimble and bendy!
-Thea W.
Miracle Worker
My husband, Mark, and I have been seeing Dr. Jenny for over three years and she is a miracle worker. I've had severe environmental allergies my whole life and as a result have also had chronic headaches since high school. I just assumed the headaches were a natural part of my life because of my allergies. After just one adjustment from Dr. Jenny my allergies and headaches decreased. And with continued treatment I found that both were virtually eliminated.
During the spring and fall when my allergies usually wreak havoc on my life, as long as I get adjusted by Dr. Jenny, I can function normally and have only minimal allergy symptoms and no headaches. Mark has numerous injuries from sports that cause him occasional problems, including breaking his nose five times. Because of his broken nose he snores terribly!
So although he started seeing Dr. Jenny because of his other injuries, and found relief from his low back and wrist pain, getting adjustments also helped his snoring, which I love – as you can imagine. We had no idea that regularly getting his neck adjusted would help his snoring! So whenever he keeps me up with his snoring I just tell him it's time to go see Dr. Jenny again.
-Anonymous
Knowledgeable and Fun
I met Dr. Jenny and her staff at our teacher appreciation week. Dr. Millen was so knowledgeable and fun I decided to visit her office. I have been very satisfied with my treatment, just wish my insurance would allow me to go weekly! They offer monthly specials I have taken advantage of and appreciate that option. Besides Dr. Jenny and Megan giving me hours and days of pain relief and mobility, the warmth and professionalism of Erin cannot be compared to any doctor's office I have visited! Dr. Jenny and her staff introduced me to the option of homeopathic medicine and treatments that really benefit you. I feel like I'm part of a great family!
-Janet T.
Feels Like Part of Family
I needed a chiropractor but I was nervous about seeing one. My boyfriend introduced me to Dr. Jenny after my back pain became too much to ignore. Now, I feel wonderful after my adjustments! I am now a faithful patient of Dr. Jenny and my visits are the highlight of my week! I love Dr. Jenny and her staff. They make you feel like a part of the family and treat me as such. Everyone knows you and always has a genuine smile for you.
I love Dr. Jenny's approach to wellness. It's holistic and in your best interest. From massages to adjustments and everything else offered at Triple Crown Chiropractic, you'll leave feeling well taken care of and refreshed. Best wellness facility in Lexington!
-Horton S.
Friendly, professional and personable
I attended a Ladies Night Out and started talking to patients. It had been years since I had used chiropractic and, after a bad experience, I was hesitant. Everyone said such great things about Dr. Jenny and they were right! I always have a sigh of relief when I am checking out at the desk. Sometimes my muscles are sore afterward but I can always feel improvement even though my muscles may have had a bit of a shock. What I specifically love about Triple Crown Chiro is the people! Friendly, professional and personable staff make my visits enjoyable and productive!
-Jodi D.
---
Triple Crown Chiropractic & Wellness Reviews | (859) 335-0419