Meet Dr. Jenny Millen
It Was Meant to Be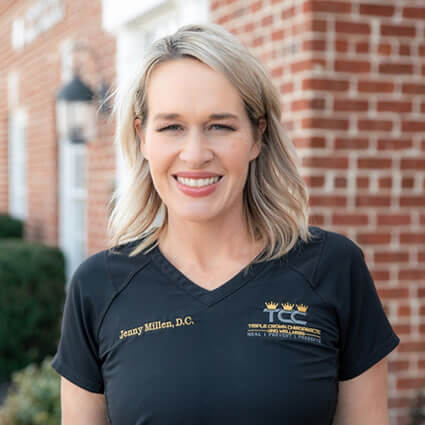 From a young age, Dr. Jenny was destined to become a chiropractor. She was fortunate to become a chiropractic patient at age 2, back in the 1970s. During her teen years, chiropractic saved Dr. Jenny multiple times. She was able to get results with her asthma, gut issues and more.
It was during Dr. Jenny's college years that she shadowed her hometown chiropractor. Seeing miracles happen at that office was what made Dr. Jenny decide she would become a chiropractor, too.
A Focus on Women's and Children's Health
Dr. Jenny attended Logan College and earned a Doctor of Chiropractic degree. Her additional qualifications include certifications in the Webster Technique, as well as for prenatal, perinatal and postnatal care. She is passionate about educating people on chiropractic and their condition, watching the lightbulb go off when they learn about how their body functions.
I am a passionate 'truth warrior' showing and teaching how the body has an innate intelligence far superior to any drug. I want the hard cases, the underdogs, the ones who lost hope. Chiropractic is good at turning the power on.
A Family-Oriented Life
With a mom who was a nurse, Dr. Jenny was fortunate to grow up with the best of the medical and chiropractic worlds from a young age. Dr. Jenny and her two brothers were told, "One of you has to become a chiropractor!" Growing up in Iowa and Missouri in rural areas, her upbringing was focused on family faith, gratitude and hard work.
Those have always been central tenets of Dr. Jenny's life. She has four boys of her own who test limits while realizing how powerful their body and mind are. It's rare that her boys need to resort to taking medication, and they've been fortunate to be raised with a more natural approach.
When Dr. Jenny has spare time, she likes to hike, run and enjoy her fantastic children.
Start Today
Contact Triple Crown Chiropractic & Wellness now to schedule your first appointment! Most insurances are accepted at our office.
---
Dr. Jenny Millen | (859) 335-0419